GUANGZHOU, China, December 10, 2018 -- iQIYI Inc. (NASDAQ: IQ) ("iQIYI" or the "Company"), an innovative market-leading online entertainment service in China, recently announced a new wide-ranging partnership with China Mobile and MIGU, China Mobile's integrated music and video streaming app. Announced at the 2018 China Mobile World Partners Conference in Guangzhou, the partnership covers combined membership packages and deals in mobile data for video.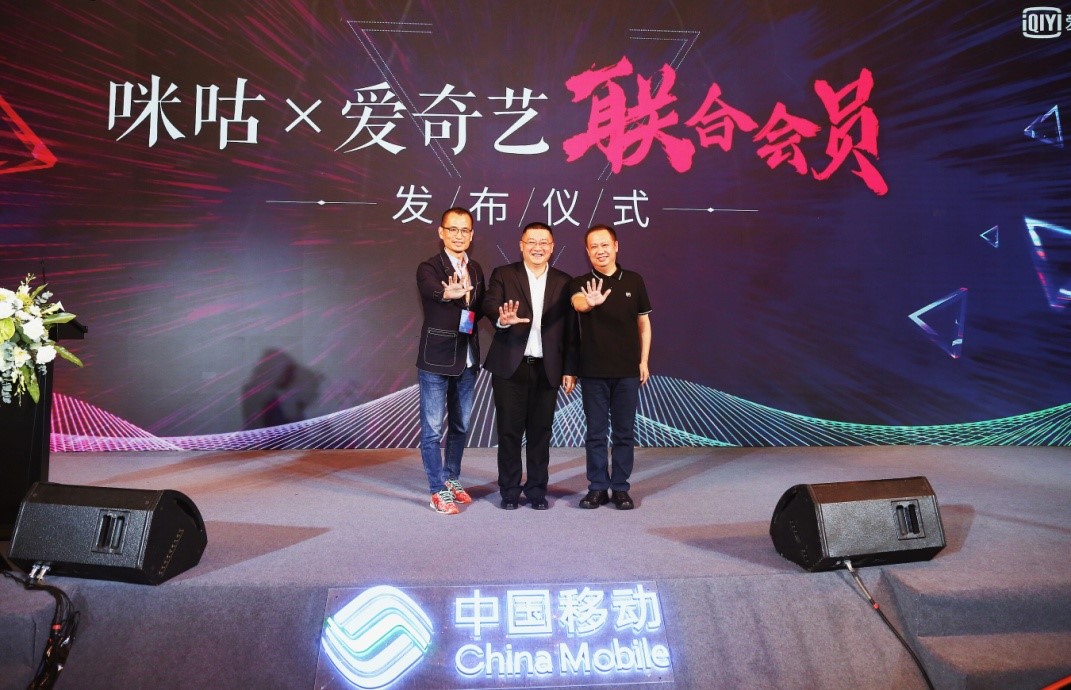 This partnership will allow users a richer mobile experience and open up horizons for both sides to explore new paths in combined paid membership packages and mobile data services. The "membership + mobile video data" package will allow Chinese consumers premium access to enjoy both services, automatically receiving all the benefits of iQIYI VIP Members and MIGU Video premium members. The jointly promoted deal also includes 30G of mobile data for use on both the iQIYI app and MIGU's video app.
"iQIYI is always looking for ways to improve the benefits of our VIP members and this partnership with China Mobile and MIGU, China Mobile's premier integrated music, video and gaming app, will allow them to benefit from a new comprehensive 5G video entertainment ecosystem," said Duan Youqiao, Senior Vice President at iQIYI. "The combination of iQIYI and China Mobile's resources is sure to be a force to be reckoned with in China's online entertainment space."
"MIGU is honored to partner with iQIYI, China's most innovative online entertainment service, on this joint membership program," said Yan Zhongwei, Vice General Manager at MIGU. "We are sure China Mobile users will be delighted at the prospect of iQIYI's vast catalogue of premium video content being added to MIGU's video platform, and we are looking forward to developing a close relationship with iQIYI going forward."
As the largest mobile communications operator in the world, China Mobile has taken the lead in bringing 5G to provinces and cities across the country, with China Mobile users enjoying special advantages in bandwidth and traffic. iQIYI is one of China's online leading entertainment services, producing mega-hit original content such as "Idol Trainer" and "Story of Yanxi Palace."
According to the 2018 "China Internet Audiovisual Development Entertainment Report," China had 609 million online video users and 578 million mobile video users as of June 2018. This partnership between iQIYI and China Mobile marks the first cooperation between an internet video platform and mobile operator, a partnership that is expected to deepen as the mobile market continues to grow and become more sophisticated.
About iQIYI, Inc.
iQIYI, Inc. (NASDAQ: IQ) ("iQIYI" or the "Company") is an innovative market-leading online entertainment service in China. Since its launch in April 2010, iQIYI's corporate DNA has combined creative talent with technology, fostering an environment for continuous innovation and the production of blockbuster content. iQIYI's platform features highly popular original content, as well as a comprehensive library of other professionally-produced content, partner-generated content and user-generated content. The Company distinguishes itself in the online entertainment industry by its leading technology platform powered by advanced AI, big data analytics and other core proprietary technologies. iQIYI attracts a massive user base with tremendous user engagement, and has developed a diversified monetization model including membership services, online advertising services, content distribution, live broadcasting, online games, IP licensing, online literature and e-commerce etc. For more information on iQIYI, please visit http://ir.iqiyi.com.
About China Mobile Limited
China Mobile Limited was incorporated in Hong Kong on 3 September 1997. The Company was listed on the New York Stock Exchange ("NYSE") and The Stock Exchange of Hong Kong Limited ("HKEX" or the "Stock Exchange") on 22 October 1997 and 23 October 1997, respectively. The Company was admitted as a constituent stock of the Hang Seng Index in Hong Kong on 27 January 1998.
As the leading telecommunications services provider in Mainland China, China Mobile Limited provides full communications services in all 31 provinces, autonomous regions and directly-administered municipalities throughout Mainland China and in Hong Kong Special Administrative Region, and boasts a world-class telecommunications operator with the world's largest network and customer base, a leading position in profitability and market value ranking. Its businesses primarily consist of mobile voice and data business, wireline broadband and other information and communications services. As of 31 December 2017, China Mobile Limited had a total of 464,656 employees, 887 million mobile customers and 113 million wireline broadband customers with its annual revenue exceeding RMB740 billion.
About MIGU
MIGU was established by China Mobile as a specialized subsidiary targeting the Internet space and responsible for the integration of digital content products' supply, operation and service. It is China Mobile's only operating entity for digital content business segments including music, videos, reading, games and comic. It has five subsidiaries, namely MIGU Music, MIGU Video, MIGU Digital Media, MIGU Interactive Entertainment and MIGU Comic.