NEW YORK, Oct. 29, 2018 -- Today, Mr. Liu Wenfeng, Chief Technology Officer at iQIYI Inc. (NASDAQ: IQ) ("iQIYI" or the "Company"), an innovative market-leading online entertainment service in China, gave a keynote speech at the China-US Culture Investment Forum in New York, an event jointly hosted by Asia Society and the Beijing Contemporary Art Foundation. During his speech, Mr. Liu described how iQIYI uses cutting-edge technology such as AI to push forward online entertainment development.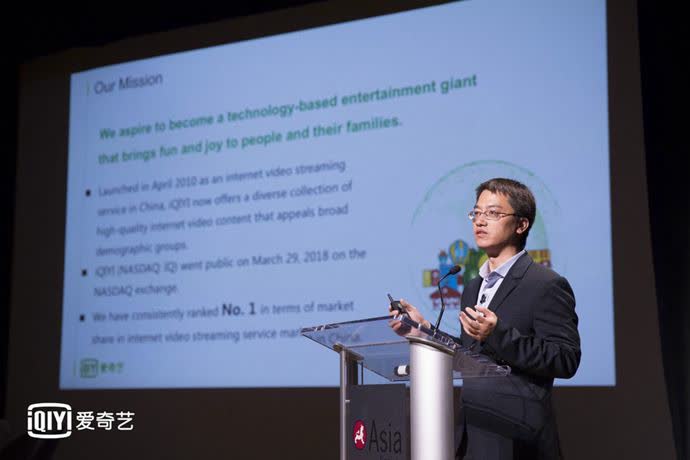 "The combination of creativity and technology is at the heart of iQIYI's DNA," said Mr. Liu during the event's "Cultural Innovation through Technology" session. "This is reflected in the fact that we, broadly speaking, aim to hire half of our employees to be research and development engineers, and the other half to be content and operation creatives. iQIYI's ability to effectively straddle these two worlds allows us to bring the best viewing experience to our users, while also improving content monetization, for example by using AI to produce scenario-based native advertising, which is more effective for brands and more enjoyable for viewers. Besides, iQIYI uses AI in the field of online entertainment, including intelligent content creation, production, automatic video tagging, distribution, playback, monetization and customer service."
The US-China Culture Investment Forum was held at the Asia Society headquarters in New York, as part of the Creative China Festival 2018. The event gathered entrepreneurs, philanthropists, and arts professionals from China and the United States to highlight the role of culture in cultivating new talents and creativity for the society, and to share organization and management models between China and the United States.
About iQIYI, Inc.
iQIYI, Inc. (NASDAQ: IQ) ("iQIYI" or the "Company") is an innovative market-leading online entertainment service in China. Its corporate DNA combines creative talent with technology, fostering an environment for continuous innovation and the production of blockbuster content. iQIYI's platform features highly popular original content, as well as a comprehensive library of other professionally-produced content, partner-generated content and user-generated content. The Company distinguishes itself in the online entertainment industry by its leading technology platform powered by advanced AI, big data analytics and other core proprietary technologies. iQIYI attracts a massive user base with tremendous user engagement, and has developed a diversified monetization model including membership services, online advertising services, content distribution, live broadcasting, online games, IP licensing, online literature and e-commerce etc. For more information on iQIYI, please visit http://ir.iqiyi.com.