BEIJING, Sept. 10, 2018 -- iQIYI Inc. (NASDAQ: IQ) ("iQIYI" or the "Company"), an innovative market-leading online entertainment service in China, today announced that Dr. Gong Yu, the company's founder and CEO, has been named "Businessman of the Year" by GQ China, the Chinese edition of the globally renowned men's magazine.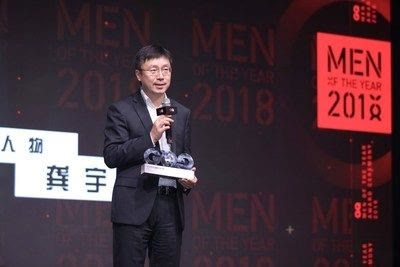 Dr. Gong described the root of iQIYI's success in China's competitive online streaming market, highlighting the company's unique hybrid AVOD (Advertising Video-on-Demand) / SVOD (Subscription Video-on-Demand) business model, its drive to leverage advanced technology including artificial intelligence and a strong focus on producing top quality original content.
"TUnder Dr. Gong's leadership, iQIYI has become the top choice entertainment platform in China's online streaming market. The company has produced multiple original shows that have become iconic sensations in Chinese society, including "The Grave Robbers' Chronicles", "Let's Talk", "Descendants of the Sun", "Burning Ice", "River God", "The Rap of China" and "Idol Producer", while extending its offerings beyond online drama and variety shows into areas as diverse as online movies, games, comics, literature, e-commerce and live streaming.
GQ China's "Men of Year" awards is the magazine's mostly hotly anticipated annual event, honoring figures prominent in Chinese society in categories such as culture, business, fashion, entertainment and public life. Among the other luminaries feted at this year's event was fashion legend Donatella Versace, who was awarded "Fashion Designer of the Year". Dr. Gong was previously recognized at the 2016 "Men of the Year" awards as "Entrepreneur of the Year".
About iQIYI, Inc.
iQIYI, Inc. (NASDAQ: IQ) ("iQIYI" or the "Company") is an innovative market-leading online entertainment service in China. Its corporate DNA combines creative talent with technology, fostering an environment for continuous innovation and the production of blockbuster content. iQIYI's platform features highly popular original content, as well as a comprehensive library of other professionally-produced content, partner-generated content and user-generated content. The Company distinguishes itself in the online entertainment industry by its leading technology platform powered by advanced AI, big data analytics and other core proprietary technologies. iQIYI attracts a massive user base with tremendous user engagement, and has developed a diversified monetization model including membership services, online advertising services, content distribution, live broadcasting, online games, IP licensing, online literature and e-commerce etc. For more information on iQIYI, please visit http://ir.iqiyi.com.